Skip Navigation
Website Accessibility
Breakfast

Songbird Prairie Bed and Breakfast in Valparaiso, Indiana - where a delicious breakfast is not just served, it is celebrated! Enjoy an artfully presented hot breakfast in our sunroom, where just out the window, you will hear through the microphones, songbirds performing daily operas from dawn to dusk loudly proclaiming their treetop territories. You will enjoy a breakfast featuring juices, farm-fresh fruits, home baked breads and artfully presented entrees using local cage free farm fresh eggs and locally grown vegetables and herbs from our own garden.

Enjoy conversation in our common area or challenge one another to a game of checkers as you smell the aroma of bacon in the air. Each morning, we feature a country breakfast, with award-winning recipes that have been featured in such notable travel publications as Travel & Leisure Magazine, BedAndBreakfast.com and Midwest Living.



Imagine enjoying your morning cup of coffee at one of the bistro tables in our hospitality area, while your breakfast is personally prepared by resident Chef Barbara.

Breakfast is served in our peaceful sunroom overlooking the woods, with the sounds of songbirds and other birds serenading and entertaining as you dine – preparing for their ritual migration to the Indiana Dunes National Park.

Named "One of the top 25 Best Undiscovered Incredibly Romantic Inns" by BedAndBreakfast.com and "One of the Top Ten Romantic Inns" by American Historic Inns and "Best In The Region", we specialize in romantic getaways and romantic weekends away. Our morning breakfast at our Lake Michigan Inn and Spa provides a delicious cap to an evening of luxurious comfort.

Our Lake Michigan Inn and Spa features designer-inspired guest suites, complete with Italian linens, an inviting in-suite fireplace and therapeutic whirlpools complete with Thymes bath salts, soft robes and spa slippers.

With close-to-home travel being booked at many luxury inns across the country, we can help vacationers be a tourist in their own backyard. Or, gather your friends and enjoy an exciting girlfriends' getaway. With our beautiful grounds, decadent guest suites, and one of the most inviting romantic inns in the Midwest, your relaxing or romantic weekend getaway will be unparalleled. Surely one of the highlights of any vacation is breakfast and our artfully presented hot breakfast will keep you going all day!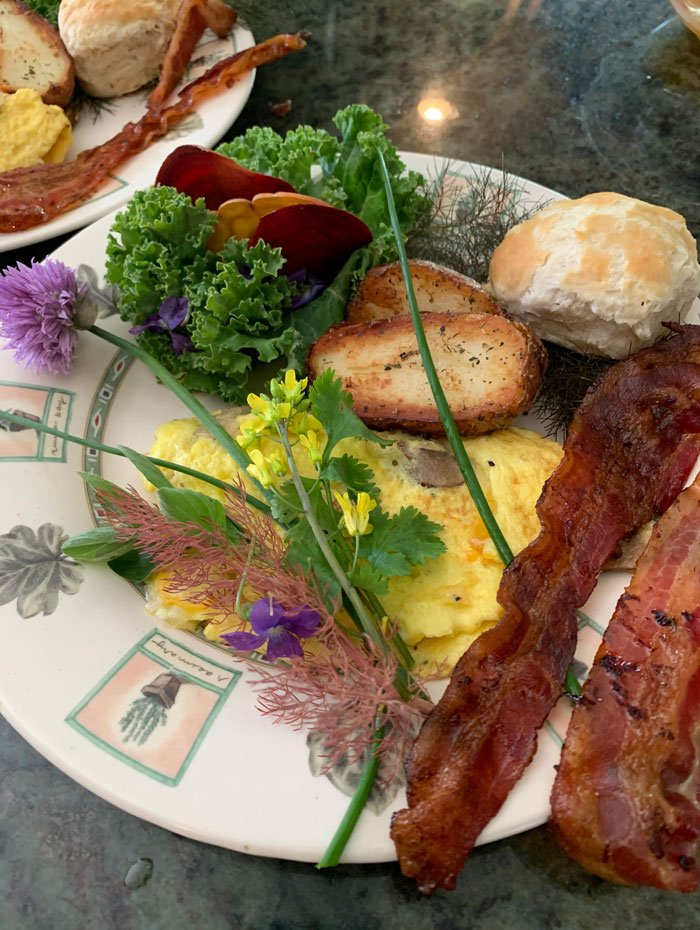 Seasonal menus of our delicious breakfast may include:
Orange Juice
Fresh Berries
Assorted Breads
Cheesy Omelet
Buttery Biscuits and Jam
Crispy Bacon
Orange Juice
Cranberry Glazed Pear
Buttery Croissants with Jams
Crispy Bacon
Morning Glory Quiche
Field Greens
Orange Juice
Fresh Strawberries
Assorted Breads
Oatmeal Souffle
Baked Apples
Rosemary Braised Ham
Orange Juice
Melon Birds in a Nest of Blueberries
Muffins
Fiesta Frittata
Bacon and Cheddar Scones
Sizzling Sausage
Orange Juice
Citrus and Kiwi
Seasonal Muffins
French Toast Souffle
Sizzling Sausage
Bananas Barbara
Orange Juice
Fresh Fruit
Scones or Muffins with Jams
Crispy Waffles topped with Berries
Sizzling Sausage or Crispy Bacon
Creme Brulee' or Grilled Pineapple
We serve creamery butter, Indiana pure maple syrup and fresh whipped cream. Gluten free and vegan requests will have a $10.00 charge

Please let us know prior to check in if you have any food restrictions. Thank you.

Full Breakfast is served at 9:00 AM Corporate Continental as needed

Why not have breakfast in your guestroom ($25.00 ) it is only available in the Bluebird or Robin suites) Please call to request availability.

Breakfast at Songbird Prairie Inn and Spa is open to the public by reservation only Please call the night before for availability.

Please contact the night before your desired date us to make a reservation. Songbird Prairie in Valparaiso, is so much more than a Valparaiso, IN hotel.

Cost: $25.00 per person for unregistered guests tax and gratuity included Breakfast complimentary for registered guests

Non-guest breakfast reservations are required. Please call the night before to check on availability.